The construction and manufacturing industries are inherently hazardous and involve great deals of lifting, overhead work, and other repetitive tasks that can cause fatigue and injuries. Workplace injuries naturally cause trauma to the injured worker and the crew, and other potential effects include missed work time and a general loss of productivity on the job site. What if these situations could be entirely avoided? Ekso Bionics believes that they can be.
Ekso Bionics is the world leader in exoskeleton technology, and our assistive technology is used in a variety of industries, including neurorehabilitation with our latest models. Ekso has always believed in using our technology to enhance human capabilities and empower mobility in wearers. This began with our HULC model, which was used in military applications and special operations. The purpose was to help an industrial marine carry heavy loads over longer distances and at greater speeds than typically possible. While the support exoskeleton did technically work, it also put a strain on the user's body, failed a functional performance validation standard, and was discontinued due to this issue.
Ever since that, Ekso has been working on other solutions for the benefit of humanity, and many of these have great industrial applications. Here are just a few of our devices that are improving the construction and manufacturing industries.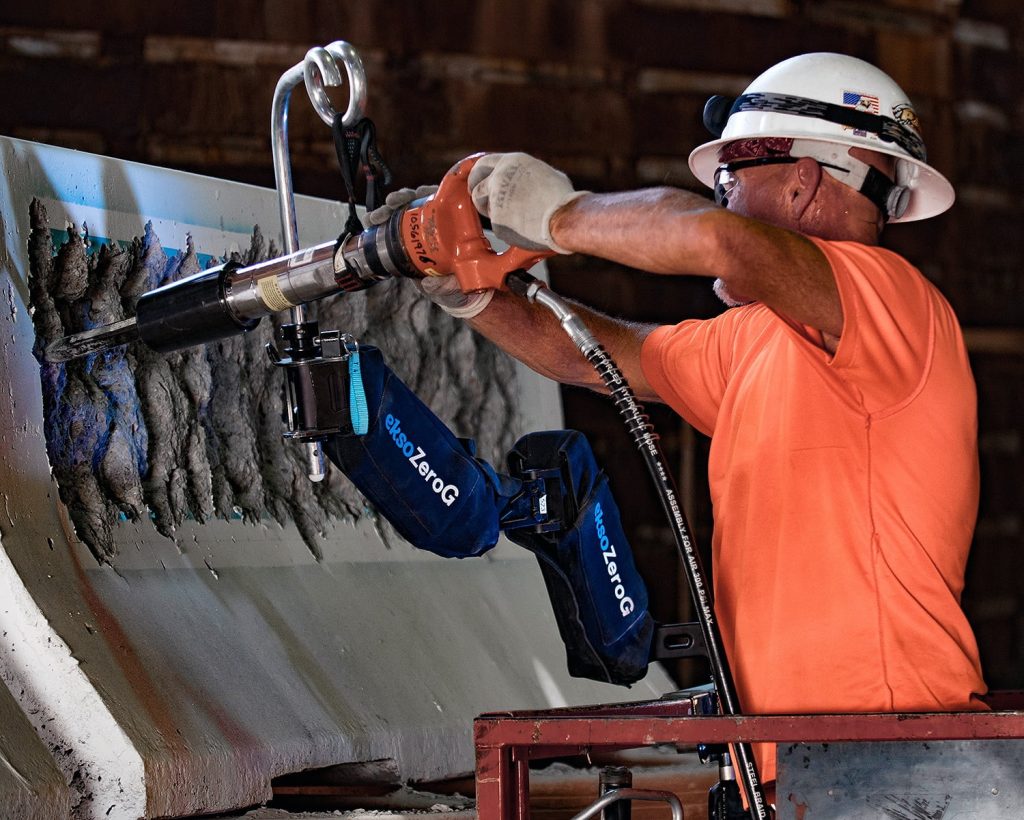 Ekso Vest
This was Ekso's first passive exoskeleton meant for industrial settings. The durable vest would attach similar to a harness around the wearer's waist where it would connect up through the spine and shoulder supports. This support helped workers lift heavy objects more easily, which made it a great option for overhead work, such as installing oil filters in vehicles. In fact, our partnership with Ford is what brought the Ekso Vest into the public light after workers started praising the device.
With its lightweight design, it was able to improve muscle activity, and lower metabolic costs, all without putting strain on the rest of the body thanks to symmetric lifts. While the exoskeleton didn't grant users the strength of Iron Man, it did make repetitive lifting tasks easier, helped improve commercial transportation manufacturing, and had a variety of industrial applications. We found that the vests didn't support a full range of motion, which could make working in certain conditions difficult. Finding this inspired us to improve and design a more ergonomic solution.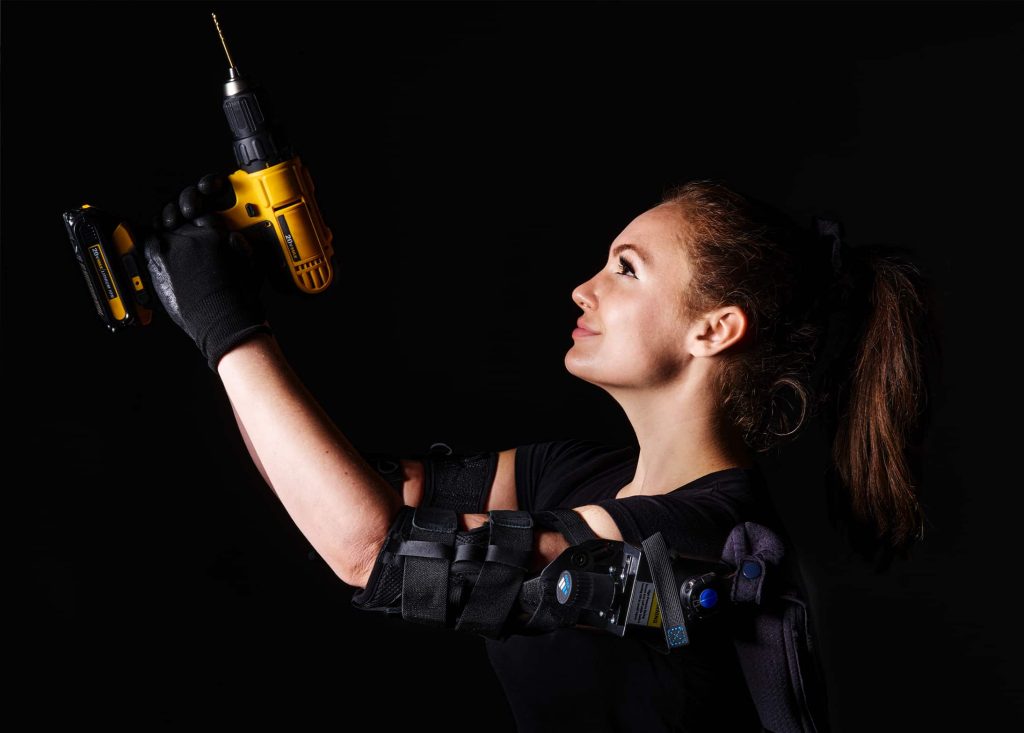 Ekso EVO
Our EVO exoskeleton is the latest evolution in industrial shoulder exoskeletons and technologies. This piece of personal protection equipment was designed in collaboration with existing customers, physical therapists, and partner feedback to provide the best in physical workload support. It currently boasts titles as the world's most durable, naturally-tracking, and assistive exo vest.
Like the previous vest, the harness connects to the hips, so workers don't have to worry about thigh connections or any lower body interference. Rather than a single spine support connecting to the shoulders, EVO features two support bars connecting the hips to the shoulder supports. The device features a custom fit for each worker with adjustable lift assistance and a personal height range. Large arm holes make for an easy fit and improved logistics, and minimal contact points means improved cooling.
The exoskeleton functions are backed by data from clinician testing, collected in PMID, that shows that worker capabilities are nearly endless when it comes to standing positions and overhead work thanks to superior back muscles and shoulder support. This is also thanks to a partnership with smart assist that ensured the device allowed for full strength with the full natural range of motion, meaning that a wearer's torso, hips, thighs, and arms can move freely without resistance.
This design keeps the device as lightweight as possible for maximum comfort. Spring-loaded technology also eliminates the need for any kind of power supply or recharging. This means that there's plenty of room to add a fall harness, further increasing safety. The rugged outer shell makes for easy care of the exoskeleton, and you can even boost its visibility with reflective tape. Workers can even control the amount of assistance for each arm separately, thanks to asymmetrical controls.
EVO is the ultimate solution to improve safety at construction sites, eliminate worker fatigue, eliminate workplace injuries, and improve productivity and worker output.
Ekso ZeroG
EVO isn't the only way that Ekso is innovating in the construction industry. Reducing muscle fatigue thanks to overhead tasks and repetitive motions is great, but these factors aren't the only reasons that construction workers report a high rate of injuries and pain. Oftentimes, this is due to lifting and holding heavy tools for extended periods. Now, there's a way to get around that too. You can reduce muscle strain even more, as well as improve accuracy and workmanship with large tools, thanks to EksoZeroG.
This zero gravity arm is designed to be mounted for aerial construction jobs, such as on construction scaffolding or other aerial workstations. The spring-loaded arm is able to transfer the weight of heavy tools to its base and then into the ground, thus providing a truly weightless feeling to workers using the tool. It's able to hold heavy tools weight up to 42 lbs., such as large drills, impact wrenches, industrial grinders, and more.
Maintenance of the unit is easy and mostly just involves keeping it clean and ensuring that moving parts are clear of debris, It currently isn't designed to mount to a rolling cart or operator, but new innovations may remedy this in the future. It's important to note that while the device can support loads up to 42 lbs., it only actually provides 36 lbs. of lift, so heavier tools won't feel totally weightless.
Ekso Bionics continues researching and improving its technologies at all times. Our devices are frequently covered by IEEE, the world's largest technical professional organization, so you can keep up with any relevant news. There's little doubt that more innovations will be coming to the construction industry soon.
Exoskeletons