Ekso lifts your
construction team
In 2019, the most common cause for workplace injuries was overexertion and fatigue. With 20% of construction workers reporting severe pain, construction workers are five times more likely to report poor health. As US companies pay nearly $62 billion per year for workplace injuries and our economy faces an ever-increasing need for efficiency, we designed Ekso EVO to address these problems.
OUR MISSION
To reduce workplace injuries
The purpose of our wearable exoskeleton is to increase the quality of life for industrial workers and help them lift heavy loads and perform repetitive tasks without injury. Our exoskeleton technology for industrial applications became well-known after our EksoVest partnership with Ford, where our innovative exoskeleton helped workers on the manufacturing floor perform long stretches of overhead work, such as installing filters and sensors in vehicles, without strain or injury. Potential benefits of our assistive technology include arm, elbow, and other joint supports that increase workers' endurance and reduce the risk of injury.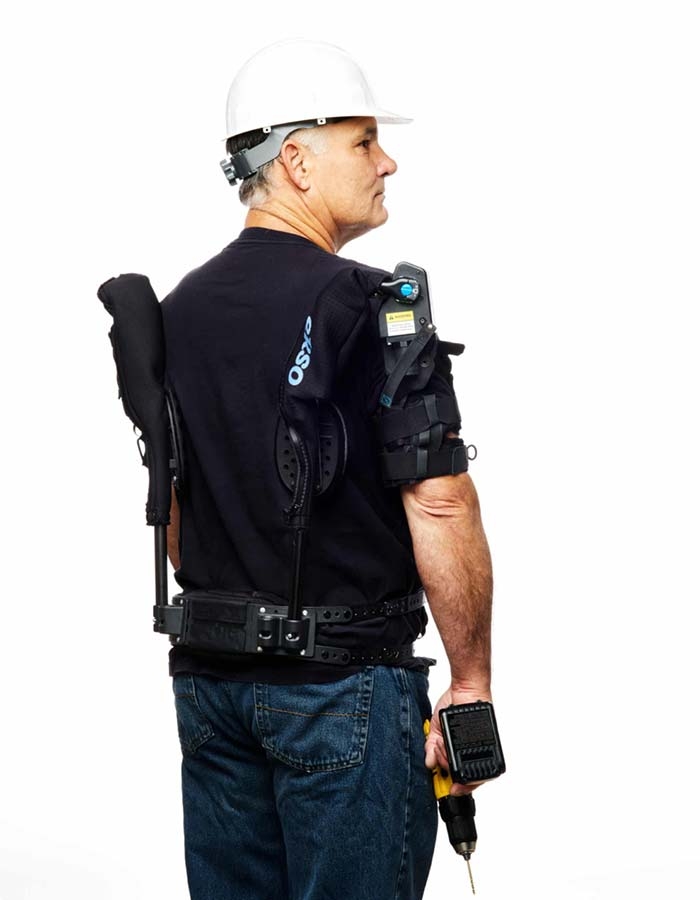 Power without pain: Ekso EVO
Our Ekso EVO exoskeleton is the next evolution in our industrial exoskeleton line. Ekso EVO is a spring-loaded exoskeleton vest, rather than a powered exoskeleton, designed to support one's arms when working overhead at 90° or more. With its incredibly robust build and lightweight frame, Ekso EVO tracks workers' movements with ease and sustains stamina for a total degree of freedom. These changes were made in response to the fact that our original exoskeleton could restrict limbs and movement. With no power sources required, workers can stay on the job as long as needed without worrying about batteries.
Construction workers can retain energy longer, get work done quicker, and become more accurate. Business leaders also benefit from a faster, less costly, and healthier workforce. Productivity can soar thanks to the enhanced abilities offered and the reduced work time missed due to injuries.
Learn about Ekso EVO
Ekso EVO APPLICATIONS
Let Ekso EVO take the weight off your shoulders
Ekso EVO was designed based on field feedback from leading companies around the globe. Based on this feedback, we designed Ekso EVO to be unobtrusive, have minimal contact points, and provide the widest range of assistance in the industry. Here are just a few of the applications for which our partners around the globe use Ekso EVO every day:
Automotive manufacturing
Food processing
Construction
Electrician
Aerospace manufacturing
Shipbuilding
Coal Mining
Logistics, fulfillment, and shipping
Solar installation
Watch Video