Independence on the go
Ekso Indego® Personal is a powered exoskeleton that enables patients with mobility impairments the opportunity to walk independently. It offers easy set up and a quick learning curve with most users standing and walking their first time with the device. Paired with unique features like our one-handed adjustable strapping system and iOS app, Ekso Indego provides a superior user experience to help individuals gain independence at home and in the community.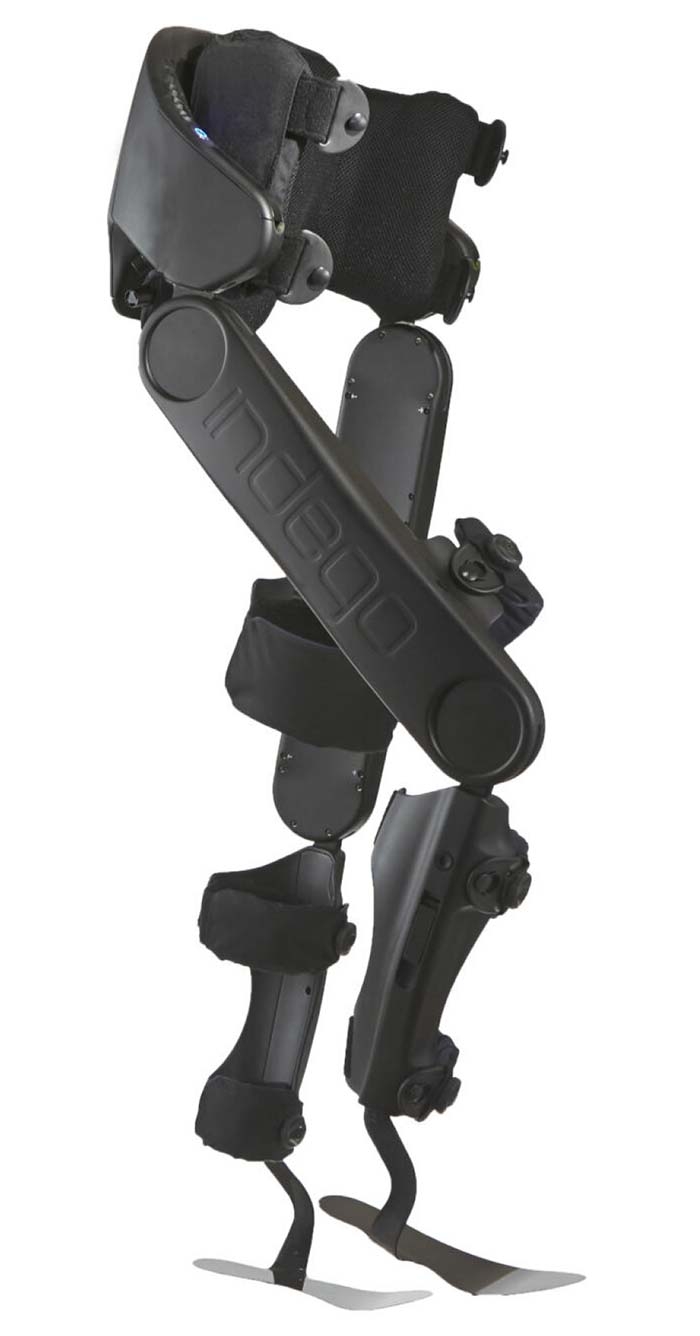 About Ekso Indego Personal
Features
UNMATCHED PORTABILITY
This lightweight device can be put on/taken off in a variety of locations, be worn in most standard wheelchairs, and transported in a duffle bag or transport case.
INTELLIGENT FEEDBACK
Know what mode the Indego is in both as the user and support person using the indicator lights and vibratory patterns.
PRE-GAIT FOR ADLs
Utilize the pre-gait function to get up and standing to perform activities of daily living such as washing dishes, cooking dinner, and personal care activities.
WIRELESS CONTROLS
Adjust walking settings on the intuitive wireless iOS application.
VARIOUS TERRAINS
Ambulate indoors or outdoors over multiple surfaces while being able to take breaks in sitting or standing.
ADVANCED WALKING
Speed up your walking by utilizing sophisticated software that allows for some of the fastest gait speeds in an exoskeleton.
PERSONAL EXOSKELETON
What is Ekso Indego Personal?
Ekso Indego is the only exoskeleton to offer a modular quick connect design, which allows you to put on and take off the device without assistance. At just 29 lb (13 kg), Ekso Indego is the lightest commercial exoskeleton available offering ease of handling, transportation, and storage.
Ekso Indego is a powered lower limb orthosis, also known as a powered exoskeleton, which enables people with mobility impairments the opportunity to walk independently. Power is provided by sophisticated motors in the knee and hip joints, and combined with advanced sensors and control strategies, the device allows individuals with gait impairments to stand and walk again, granting them a new level of independence at home and in the community.
Ekso Indego can currently be used with spinal cord injury levels of T3 to L5 in community or home settings but is not intended for sports or stair climbing.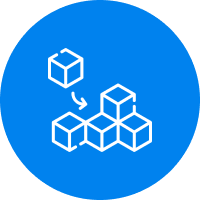 MODULAR DESIGN
The five component design including self-aligning connections allows for quick, independent donning and doffing as well as easy transport of the device. Its lightweight and narrow design allows Ekso Indego to be worn while seated in most wheelchairs and can be used on a variety of surfaces including carpets, floor, grass, and asphalt.
INTUITIVE SOFTWARE
Walking in the device is easy to learn. The user leans forward to stand and walk, maintains an upright stance to stop, and leans backwards to sit. There is also additional feedback from the device for the user with vibratory feedback and LED indicators for the support person.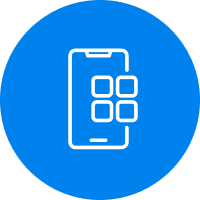 EKSO INDEGO iOS APP
Take charge of your Ekso Indego with our easy-to-use app. Track your progress and performance data, export session reports to your email, and change settings like speed and step height. These simple changes can take place in real time while standing.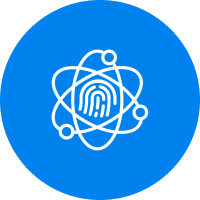 UNIQUELY PERSONAL
Ekso Indego allows you to get out of your wheelchair and up at eye level. Use Ekso Indego in your home to stand while brushing your teeth, cooking your dinner, walking your dog outside or taking a stroll with your kids. The possibilities are endless and tailored specifically to your goals.
PATENTED TECHNOLOGY
Ekso Indego advantage
With its slim profile, Ekso Indego is the only exoskeleton to offer a modular quick-connect design, which allows you to put on and take off the device without assistance even while seated in most standard-frame wheelchairs. It is compatible with stability aids such as rolling walkers or forearm crutches. With no backpack or exposed wiring, Ekso Indego allows for safe use in most home and community environments and on surfaces like pavement, grass, carpet and tile.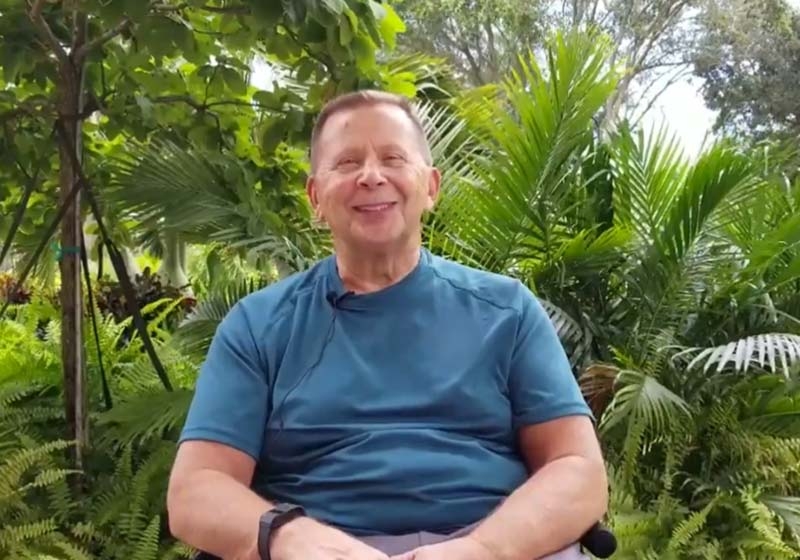 TESTIMONIAL
Jim Dahlin's story
As a Veteran with a spinal cord injury, Jim Dahlin, faced the grim possibility of never walking again. His life changed when he was required to receive an MRI at Minneapolis VA and was introduced to exoskeletons. Check out his story and see how our technology has gotten him out of his wheelchair and walking again with just a few snaps and straps.
Read Jim's Story
GET IN TOUCH
Take the next step
For more information on how you can receive an Ekso Indego for personal use, reach out to us by filling the request information below!
Request More Information
Ekso Indego Personal
Ekso Indego Therapy is designed to use in a clinic setting under a certified Ekso Indego Specialist whereas Ekso Indego Personal is designed to use in the home and community.
Ekso Indego Personal is FDA cleared for individuals with a spinal cord injury at a level of T3 or below.
Ekso Indego Personal is just 29 lbs. and easy to transport for use in your home and community. You can do any activity while wearing Indego personal that requires standing or walking over even, uneven, or sloped surfaces.
A support person can be anyone from a friend, family member, or colleague. This support person will go through the training process with you and be present when you use Ekso Indego at home and in the community.
Yes, we will come to your clinic to train therapists on Ekso Indego Personal in order to work with you through the training process.
Individuals can pursue Ekso Indego Personal through many avenues including the VA (for veterans), workers comp, auto no fault, and on a case-by-case basis with insurance.
Contact us
for more information on the purchasing process.