Is Ekso right for you?
Ekso Bionics offers a variety of products to help patients stand and walk through rehabilitation and into the home and community. At Ekso Bionics, our mission is to assist and empower patients with stroke, acquired brain injury (ABI), multiple sclerosis (MS), and spinal cord injury (SCI) to walk again. With our cutting-edge technology, we have helped patients all over the world take over 200 million exoskeleton-aided steps.
MULTIPLE OFFERINGS
Our robotic exoskeletons
Ekso Bionics offers solutions for use through the entire continuum of care. All are wearable robotic suits, or exoskeletons, that wrap around your body to provide support and assistance for standing and walking.
EksoNR is used earliest in rehabilitation and can help you get up and moving quickly after a stroke, brain injury, spinal cord injury, or MS diagnosis. It helps your physical therapist facilitate your rehabilitation and is designed to automatically reduce power when you can do more on your own.
Ekso Indego Therapy is used for patients rehabilitating from a stroke or spinal cord injury in the outpatient setting. The modular design makes it easy to don and doff, allowing you to spend more time working in your therapy session.
Ekso Indego Personal is used at home and in the community by those with SCI to help them complete their activities of daily living, exercise, and access stores, parks, and other places in their neighborhood. It is easy to put on and take off, can be transported anywhere, and may help improve your cardiovascular health. Being upright in the Ekso Indego Personal may also help to decrease risk of other complications sometimes seen with prolonged sitting including fractures, skin breakdown, cardiovascular disease, and muscle contractures.
Learn More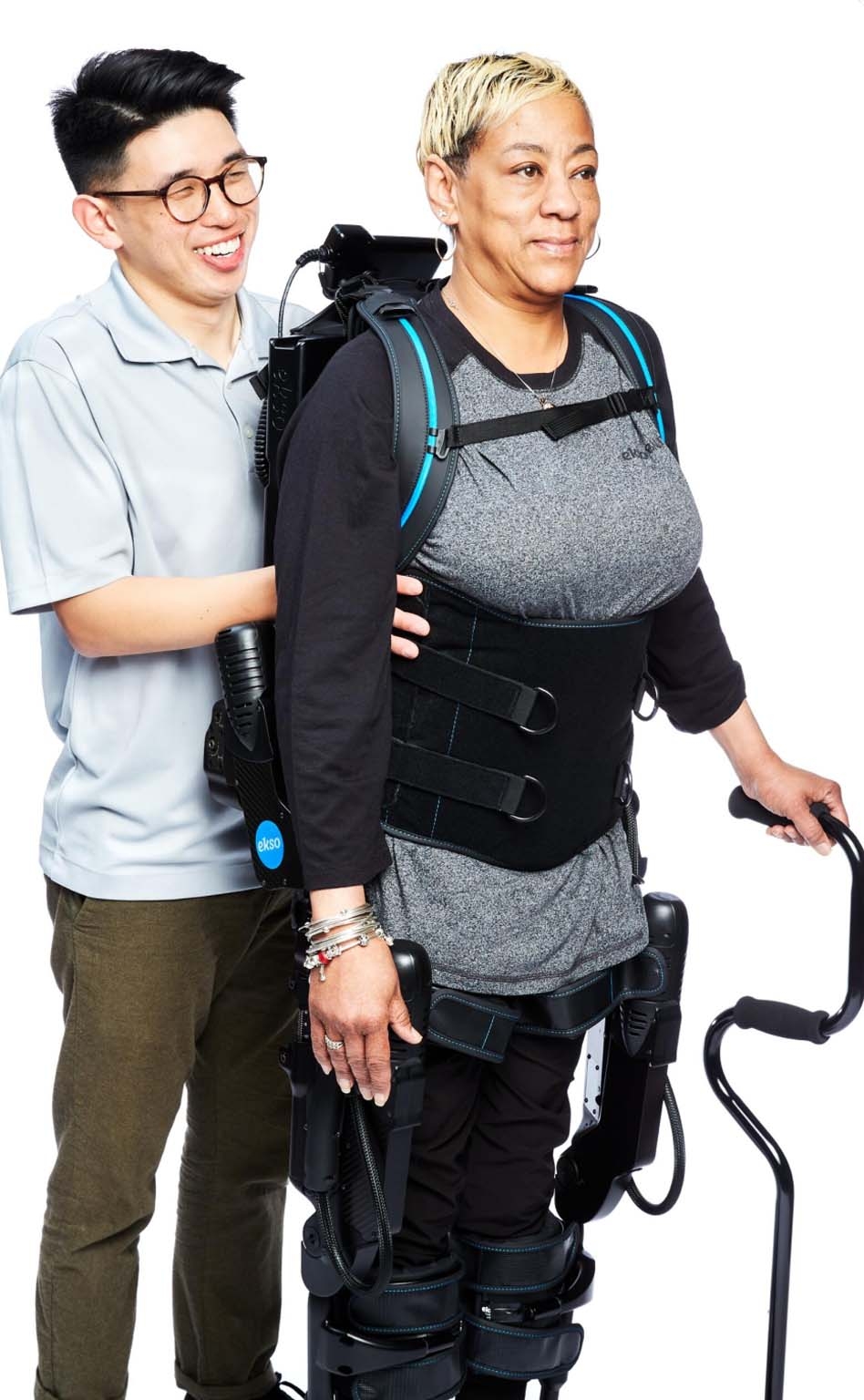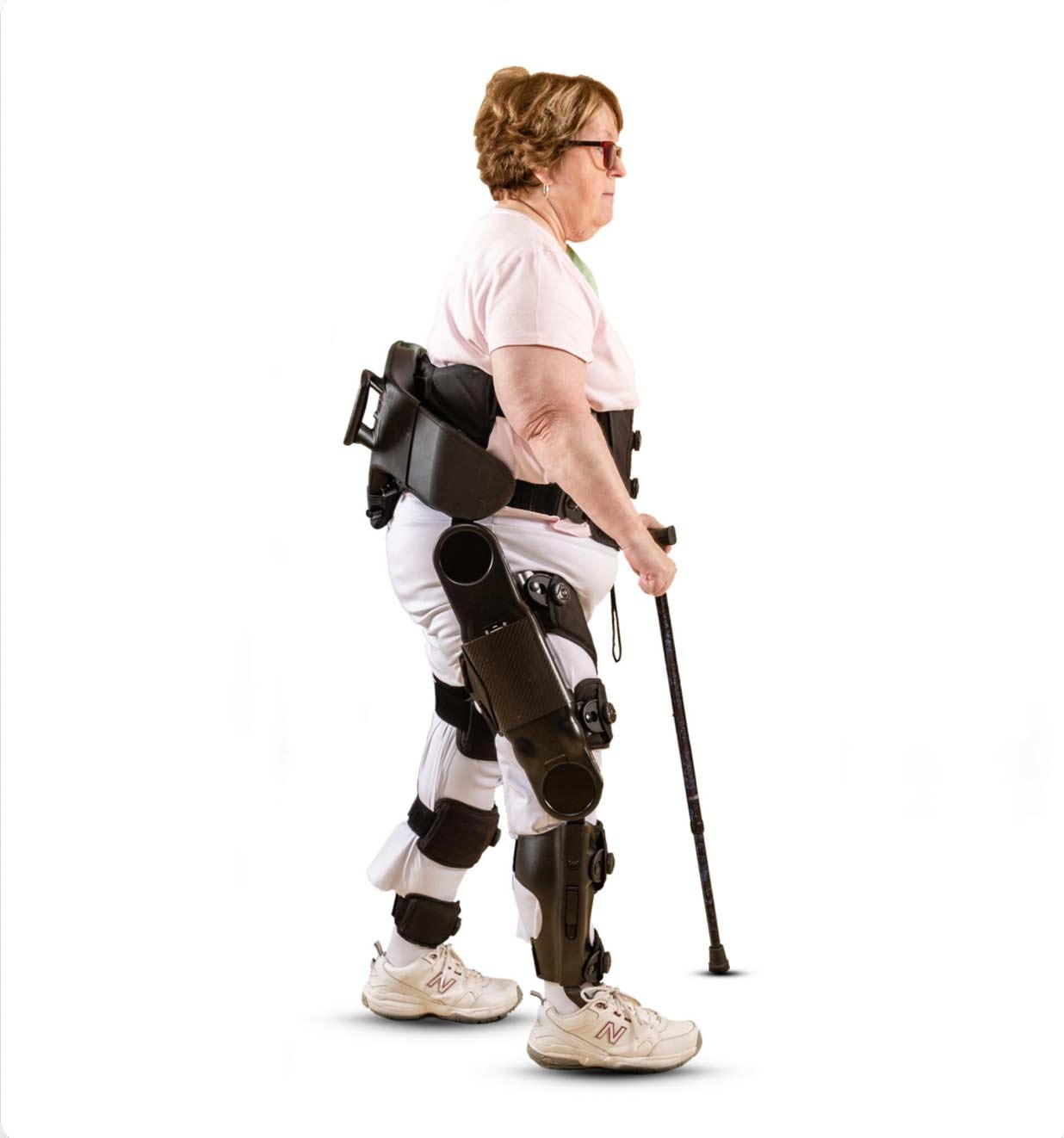 IMPACT
Why use Ekso Bionics' exoskeletons in rehabilitation?
Often in rehab, patients and therapists struggle to safely complete the amount of training needed to improve a patient's function. Our exoskeletons provide the support and assistance to help you do more practice and exercise which can lead to better movement, walking, and quality of life. To find a location near you that offers EksoNR and/or Ekso Indego Therapy as part of their therapy program, please visit our Find A Center page. If there is no facility near you, you can share information on our technology with your physician or therapy team.
Find a Center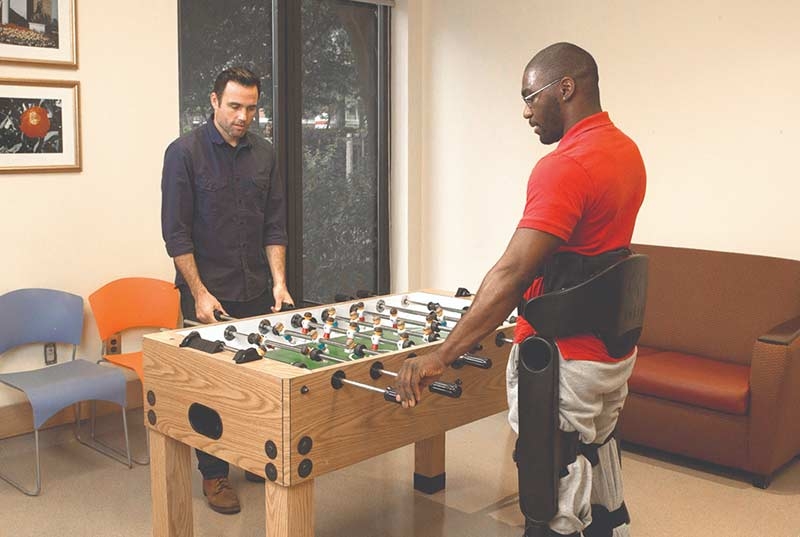 EXO AT HOME
Why use Ekso Indego Personal at home?
After experiencing a spinal cord injury, it can be challenging to adjust to life in a wheelchair. Ekso Indego Personal is an easy to use and intuitive device that will get you back standing and walking in your home and community. Use it to stand while brushing your teeth, cooking dinner, walking your dog outside or taking a stroll with your family. To find out if you qualify for a home device and to learn more, please connect with us.
Connect With Us
SHARE
Share your story
Have you used an Ekso Bionics exoskeleton as part of your rehab? Did a family member see incredible success? Do you use an Ekso Indego Personal in your community? We want to hear how Ekso Bionics has helped you or a loved one with recovery!
Submit Your Story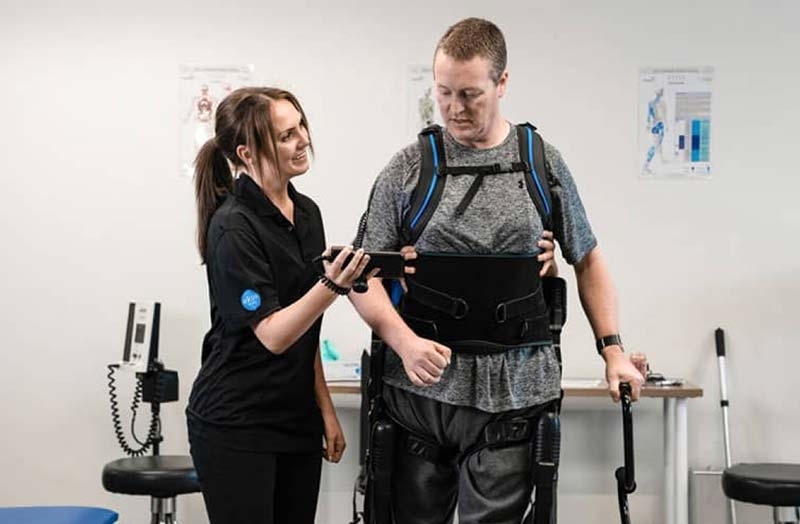 GET IN TOUCH
Take the next step
If there is no facility near you that offers therapy with EksoNR, you can download the brochure below to share with your Physical Therapist or Physician to see if they might bring the Ekso to your rehab location.
Download Brochure
FAQ's
Ekso can help you learn to take quality steps using the correct muscles. This can help prevent future complications including back or hip pain. Ekso can support your body while learning how to walk, assuring your safety while teaching you the correct way to take steps. Using Ekso can help you take more steps in your therapy sessions which can lead to faster and more pronounced recovery.
Ekso is a different tool than other rehab technologies you may have seen at therapy. It is a device that goes around you, connecting to your trunk and legs. Unlike other technology, it does not have to stay in one place and is meant to walk through the gym or rehab facility. Ekso can not only teach you how to walk again, but it can teach you the correct way to walk again so that you don't have pain or endurance issues in the future. The goal with Ekso is to help you gain function so you can "walk out" of the device.
Ekso has been FDA cleared and has gone through rigorous testing to ensure that all users of the Ekso will be safe.
Ekso is powered by motors at the hip and knee joints that support your body in standing and while taking steps. These motors are coupled with a robust software program to ensure your safety and allow you to direct movement as much as you are able.
Ekso can be used with patients who have certain levels of tone and spasticity. Your Ekso trained Physical Therapist would need to make the ultimate determination.
Ekso cannot be utilized by those who have a lower limb prosthetic device.